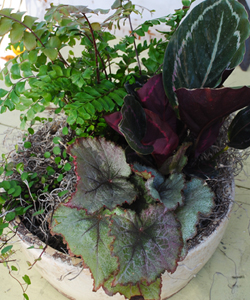 Holy Moly! The sun is out! Who knew Pittsburgh in January could look so good. Unfortunately, as much as I absolutely love this weather, I know that it won't last. Our dismal, sunless, Pittsburgh winter will set in eventually and I will be desperate for a large dose of vitamin D as much as the next person. My only saving grace during those dreary months is the humidity and greenery that live within our greenhouses. It's like stepping into an alternate universe were life is thriving and the sun is forever shinning.
Since I know it unrealistic that you will stop by every day to keep us company and visit the plants, I would like to encourage you to take home your own slice of Quality Gardens. We have a large selection of succulents and houseplants that can add life to any home. My personal favorite is creating a dish garden with a mixture of plants. It's perfect for the person who wants a little bit of everything but doesn't want it to take up the whole house. Concerned about damaging your carpet or coffee table? No need to worry. We have a large selection of beautiful pots and plastic liners that will protect any surface.
I hope I've successfully made Quality Gardens sound like the best place in the whole world. Forget going to the Caribbean or some other place that's warm and sunny, just stop by Quality Gardens. We have everything you need to create a winter dish garden and take home your own piece of the beautiful spring and summer to come. Quality Gardens is open 7 days a week and happy to serve you where ever we can. We look forward to seeing you.